Time & Attendance Software
Optimized Timekeeping & Approval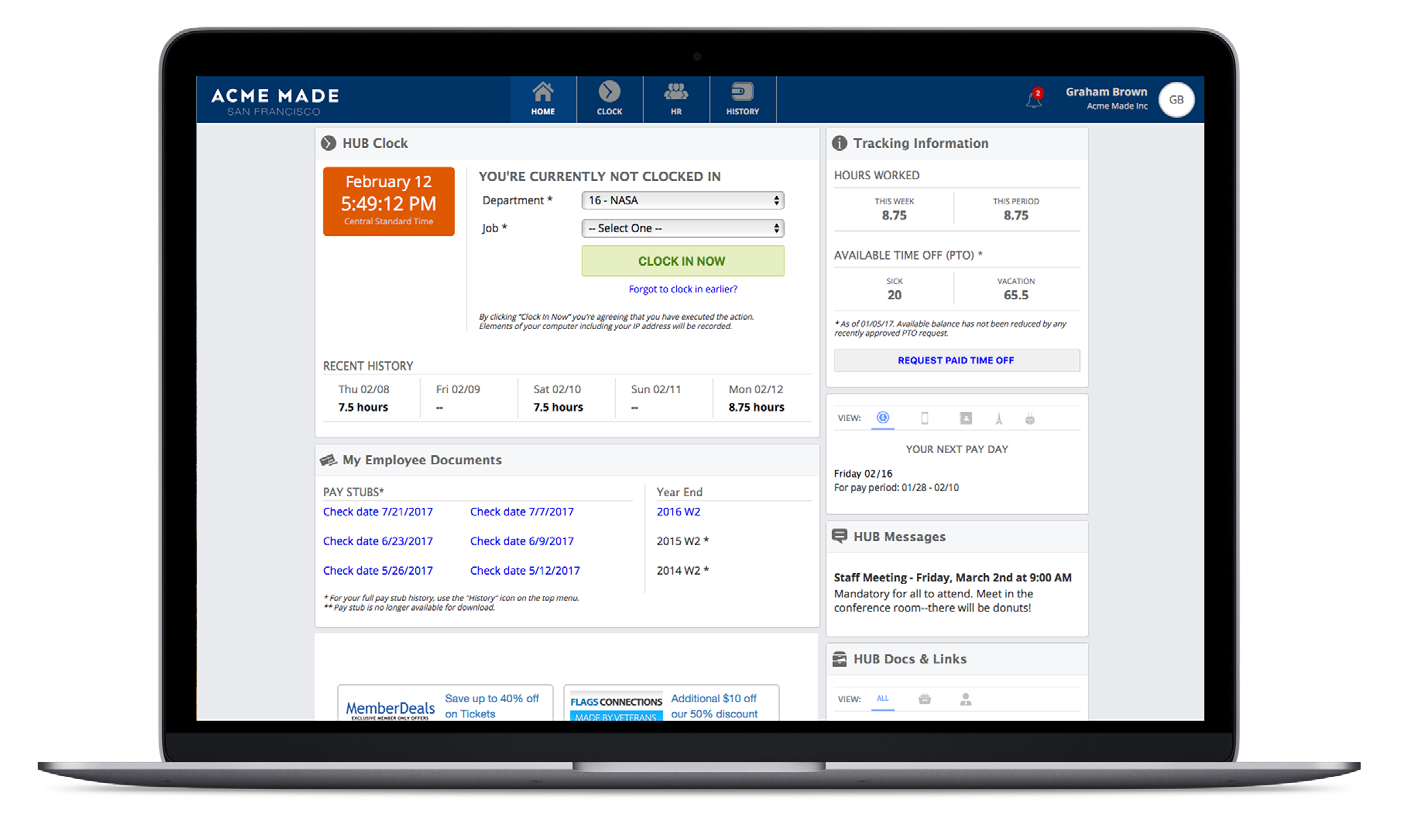 No more waiting to approve timecards or clunky processes for employees. TimeWorksPlus helps track time on any device and complies with labor laws effortlessly. Harness the power of technology to improve time tracking across the organization.
TimeWorksPlus Software Features
Better Time and Attendance
No matter where employees are working, track time automatically and review instantly.
Authentication
With enhanced time-capturing capabilities, the software helps you verify time data on any device.
More Control
Manage everything at your fingertips, from PTO to overtime to breaks.
Geographical Tracking
The tool uses geofencing and GPS technologies so you can see where employees are clocking in.
Job Costing
You and employees can assign hours to specific projects and clients for more accurate time data capturing.
Easier Compliance
By recording time digitally, you have all the info you need to comply with regulations and navigate disputes.
Greater Visibility
Monitor when someone is approaching overtime, when they're not complying with their schedule, or how much time off they've accrued.
Break Management
Make sure workers are taking necessary breaks throughout the day.
Accurate, Efficient Payroll
Avoid wasting time on reviewing timecard errors and have accurate records automatically sent to payroll.
Benefits of TimeWorksPlus Software
For All Workers
Whether your workers are in the office or remote, they can use the software to record their hours and data on any type of device.
Time Saving
Stop spending too much time with spreadsheets. Streamline payroll and timekeeping workflows with enhanced time and attendance tools and automation features.
Accuracy and Convenience
You get precise data every time an employee takes an action. Information is available instantly and it's convenient to locate and review.
Verify Location
You get precise data every time an employee takes an action. Information is available instantly and it's convenient to locate and review.
Capture More Data
Timekeeping software allows you to track even more information, like project hours, mileage, and tips.
Government Compliance
Employers have to carefully comply with time and attendance guidelines at the federal, state, and local levels. Make sure you're always compliant with accurate time data and precise records. Using the software, you can set up rules so that employees never fail to comply with laws about overtime, leave, and breaks.
Easier Payroll
Payroll processing is streamlined when timecards are approved and set faster. Employees will always get accurate pay when their timecards are correct.
Get started with Applied Payroll Solutions.
1
Request a discovery meeting.
We'll spend some time learning more about your business and your specific workforce challenges.
2
Receive a customized plan.
We'll show you how to solve your biggest workforce challenges with one powerful solution.
3
Let's make it happen.
Your representative and dedicated specialists will guide you through the transition process and your first payroll.