Payroll Software
Stop Doing Payroll the Hard Way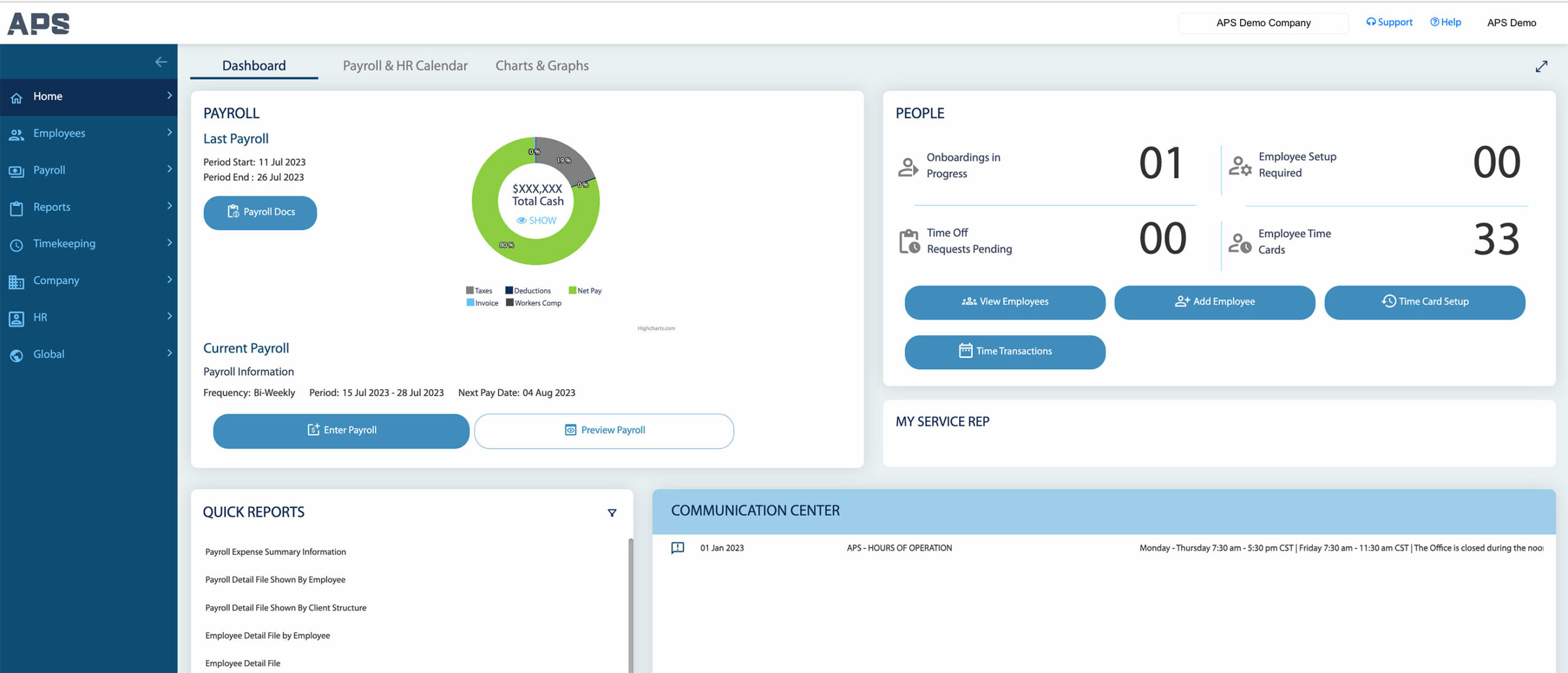 It's time to put your paychecks on autopilot. Applied Payroll Solutions lets you pay your employees accurately and on time. Our payroll software simplifies payroll, automates your business processes, and keeps you tax compliant. Applied Payroll Solutions is built on a foundation of powerful technology and expert industry knowledge. Our mission is to provide payroll software that is both safe and scalable.
Work Smarter, Not Harder
Life is too short for inadequate software. That's why we're serious about saving you time and money. Our software is designed to make your life easier and your business more efficient. It's built to:
Get More Done
Whether it's creating a custom payroll template or making mass changes to all employees, Applied Payroll Solutions makes it simple to do both, faster than ever before.
Stay Tax Compliant
Stay within the bounds of payroll tax laws. Make sure you're meeting payroll deadlines and adhering to ever-changing rules and regulations when you use our payroll software solution.
Manage Multiple Companies
If you run payroll for more than one company, you can service multiple companies at once with the same level of diligence for each one. Get everything done on a single platform, saving you time on data entry and administrative tasks.
Automate Payroll Calculations
Less time on payroll processing means more time helping your clients succeed. Quickly calculate a wide range of payroll tasks, from withholdings to retirement contributions, and supercharge your productivity in the process.
Never Let Payroll Bog You Down Again
If you're ready to simplify your business and your life, let us help you make the switch. Our flexible, cloud-based payroll services make it easy to grow your business.
Get More Value
You're busy. We know that. We also know that your business deserves the best. That's why we're committed to building a payroll solution that works for you. We don't just sell payroll software—we develop a payroll solution that helps you succeed.
Be More Accurate
Payroll must be exact. Applied Payroll Solutions simplifies the process without compromising accuracy. Our software is designed to streamline payroll, just enter the correct variables and go!
Our cloud-enabled payroll software solution can help you save money by automating processes, reducing mistakes, and letting you get more done faster. Applied Payroll Solutions works for you, not against you.
Stay Secure
The viability of your business depends on your ability to keep financial records secure. We're devoted to making sure you're protected with industry-leading security features. Regular data backups, both to cold storage and in the cloud, ensure that your data stays safe and only authorized people have access to it.
Log in from anywhere, do your work when you want, and never worry about getting lost in payroll software again. The software comes equipped with the latest security technology to ensure you have the highest level of protection available.
Get started with Applied Payroll Solutions.
1
Request a discovery meeting.
We'll spend some time learning more about your business and your specific workforce challenges.
2
Receive a customized plan.
We'll show you how to solve your biggest workforce challenges with one powerful solution.
3
Let's make it happen.
Your representative and dedicated specialists will guide you through the transition process and your first payroll.