Onboarding Software
Easier onboarding is here.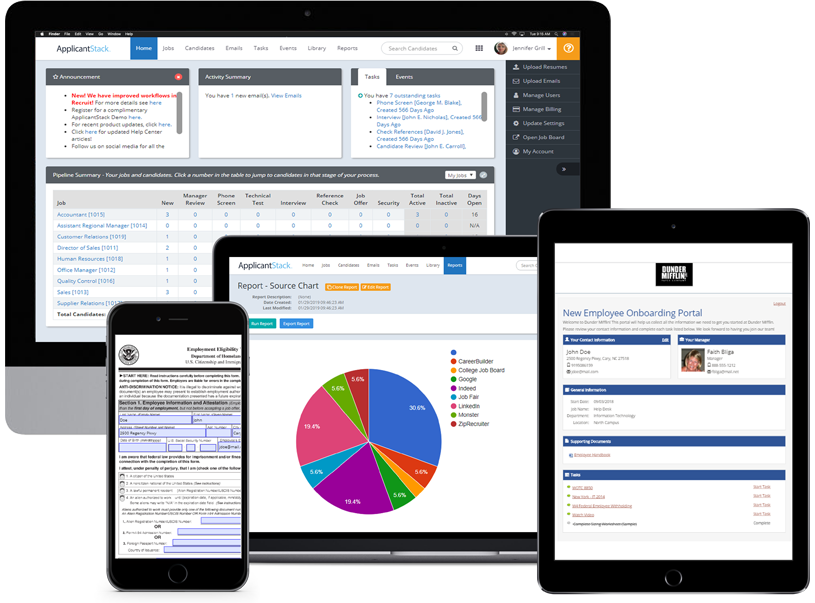 Manage candidates more efficiently with a hassle-free platform and enhanced digital tools. Our HR software helps you engage new hires right away so they stick around. Navigate onboarding with a better approach to paperwork and compliance.
What the Software Can Do
The HR software we provide helps you speed up workflows and stay compliant. Key features include:
Onboarding checklists
Never miss a step with convenient, comprehensive checklists.
Tax Forms
Gather all necessary state and federal forms for new hires.
Benefits enrollment
New employees can select and enroll in all benefits plans with just a few clicks in the platform.
WOTC requirements
The Work Opportunity Tax Credit may apply if you're hiring qualifying employees—the software helps you apply and file.
Payroll
New employees can select and enroll in all benefits plans with just a few clicks in the platform.
Background and reference checks
Conduct any necessary checks to fully vet new hires, and make the process easier for them, too.
Employee Handbook
Align new employees on company policies and procedures directly through the system.
E-signature
Manage offer letter and contract signatures with ease.
Engage from the beginning
A tedious, lengthy onboarding process can quickly turn off new hires. Make a better first impression by getting the paperwork done fast, and focus more on welcoming them to the team. Better onboarding helps them feel comfortable out of the gate, fostering engagement that will last.
Workflow Efficiency
HR departments often see a lot of redundancy in data and processes. With the right tools, you can upload and share data in one place to avoid duplications. You and employees can manage everything from the same place, including payroll, performance management, timekeeping, scheduling, and benefits.
Greater Productivity and Satisfaction
You're busy. We know that. We also know that your business deserves the best. That's why we're committed to building a payroll solution that works for you. We don't just sell payroll software—we develop a payroll solution that helps you succeed.
No more paperwork
Gone are the days of HR paperwork. Using the right software means you can truly transform your processes to digital. You and new employees can submit documents on any device and any place they have an internet connection. Information can be updated in real-time for better collaboration.
Get started with Applied Payroll Solutions.
1
Request a discovery meeting.
We'll spend some time learning more about your business and your specific workforce challenges.
2
Receive a customized plan.
We'll show you how to solve your biggest workforce challenges with one powerful solution.
3
Let's make it happen.
Your representative and dedicated specialists will guide you through the transition process and your first payroll.